Up to 365 Watts + 25 Years Product Warranty
The LG NeON R is the new high-performance solar module from LG. Its  outstanding performance of up to 365 Wp makes it a valuable addition to any roof. The 60-cell solar module can endure a static front load up to 6,000Pa. It also comes with an expanded 25-year product warranty. Furthermore, it is also offered with improved linear performance warranty.
With reinforced frame design the LG NeON R can endure a front load up to 6,000Pa. The rear load is rated up to 5,400Pa. This figure represents a wind speed of 93m/s – consider that 2005's Hurricane Katrina had a wind speed of 75m/s.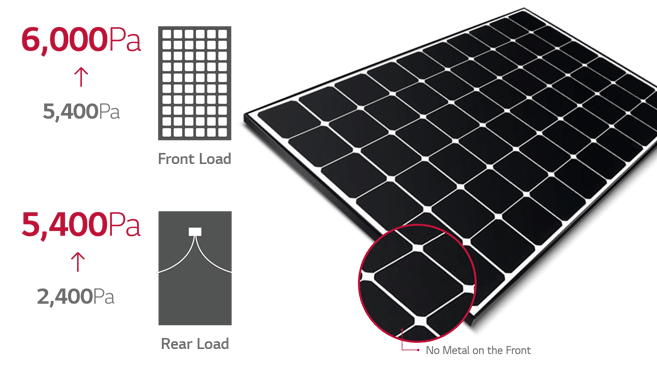 Strong Design, Powerful Performance
The busbars on the new LG NeON® R were mounted on the rear of the cells to expose the entire front side to light and therefore generate more electricity. LG creates an innovative and aesthetic cell design by incorporating 30 rear-side busbars instead of the 3 or 4 standard busbars on the cell front, a revolutionary approach that guarantees outstanding module performance.
Local Guarantor, Global Security
LG Solar is part of LG Electronics, a global and financially strong company, with over 50 years of experience. Good to know: LG Electronics is the warrantor for your solar modules.
For full details and specifications about this Brand and product, contact us today via email or call us on 21 389 389 to make an appointment, or research some more at: www.lg.com